Let us all admit that we do not bother much seeing ads on Television, and I am sure most of you even start skipping channels when ads pop up.But would you do the same thing when you scroll down your Facebook Business pages?
For instance, Videos of the delectable spread appear out of nowhere. You become engrossed in the recipes, and before you know it, you've mastered Nutella pancakes, cupcakes, ganache, parfait, and a slew of other dishes.
That is the power of Social Media Marketing. Make your content available to a global audience with Jootoor Designs.
Something about a company's social media material can draw in a larger audience than a conventional advertisement. The top Facebook company pages encourage you to follow them by pure value and intrigue rather than just being dull or obnoxious.
What makes a basic Facebook page capable of casting such a spell? Let me take you all through five of the best Facebook business pages in the section below.
1. SHOPIFY
Shopify has 3.5 million Facebook fans, which is a large number for an eCommerce site. So, how do they manage to accomplish it?
Shopify's Facebook approach is highlighted by its video section. Thousands, if not tens of thousands, of people, have seen its recordings. The films not only provide excellent business ideas and advice that keep viewers interested, but they also illustrate real-life instances of what can be accomplished utilizing the Shopify platform.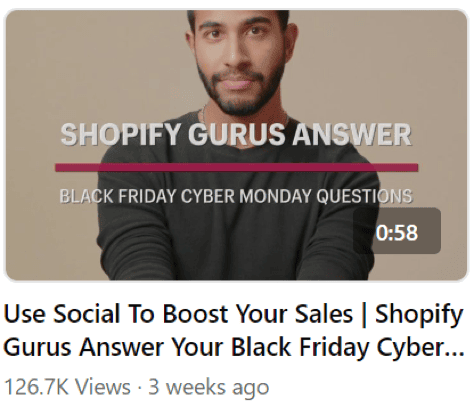 The Shopify Gurus films feature marketing gurus who offer professional advice—a refreshing change from the traditional how-to article. These Gurus cover subjects like how to use social media to increase sales and how to enhance client connections.
With themes like "How to Make Dijon Classic Mustard with Asparagus," you've got yourself a successful video segment!
That's right: Shopify focuses on its clients, sharing customer tales and information with its followers in addition to marketing recommendations. The variety of these movies not only sparks curiosity and participation but also rewards customers by increasing brand recognition.
2. ADOBE
While software businesses aren't renowned for having interesting Facebook pages, Adobe's Facebook branding approach is spot on. The company's material might be dull, but it instead utilizes its Facebook page to reach out to its design-obsessed clientele.
The firm publishes a variety of information, including insider insights and interesting industry stories. On Women Create Wednesday, they spotlight inspiring, creative women.
Adobe's articles emphasizing user-generated material, on the other hand, are our favorites. These Facebook Business pages, such as the one above, appreciate people by showcasing their work and boosting interest in Adobe's product.
3. NUTELLA
We've previously mentioned these, do not assume that I am obsessed, but it's because they're worth your time: Nutella's hazelnut spread is unrivaled, and its Facebook page is as impressive.
The company's page features some very enticing images, capitalizing on Facebook's growing emphasis on video. It capitalizes on the popularity of Facebook video recipes by teaching us that, well; Nutella has an endless number of uses.
The firm also gets inventive with its recipes, offering anything from Nutella tiramisu to a peach and Nutella brunch to entice viewers.
To help us be even more inventive, the business also offers us additional Nutella-related tips and methods. Nutella tackles their biggest challenge—concentrating on a single product—and still manages to make material that isn't boring or repetitive.
4. ZAPPOS
Zappos is a symbol of excellent customer service, and its Facebook page does not disappoint.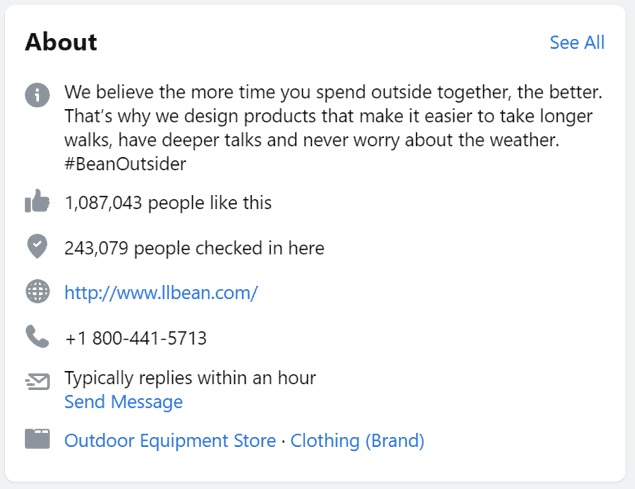 In its About section, the online shoe and clothes company pledges to engage its followers, stressing its commitment to customer service by beginning with "We're here for you 24/7." Facebook supports this in their About section, where they state that they respond to Facebook messages within a few hours!
5. ALLEN SOLLY
Allen Solly is a clothing manufacturer that does a lot more than just post about its products on Facebook Business pages. Recently, when scrolling through my feed I noticed short stories, but then I realized that those stories were interrelated to women's denim trousers which they have launched.
More than branding, those short stories are quite interesting. The organization is well-aware of its target audience. Rather than immediately promoting their items, they appeal to their target audience and help them fall in love with their brand. At least I did fall in love with their strategy!
Because they promote user interaction and are extremely popular with their audience, these posts create a lot of user engagement.
Facebook Business Pages Best Practices
Now that you've been inspired by these beautiful Facebook business pages, here are some pointers and best practices for creating your own:
• A PERFECT ABOUT US SECTION
The About part of your company's Facebook page is prominent, and it might be your audience's first exposure to your business. Use your About section to give a little bit of your company narrative and show them your goal and values in addition to mentioning your product.
L.L. Bean does a fantastic job of subtly hinting what they manufacture (outdoor gear) while emphasizing their business principles in the example below. This clarifies its mission: to assist you in unwinding, communing with nature, and spending quality time with family.
Content is all that matters here. You cannot write a page, the write-up needs to be short and clearly convey your brand message. Allow us to demonstrate the joys of website content writing to you!
CREATE A UNIQUE LOOK FOR YOUR PAGE: BRANDING
Your social media presence, like your small company website, should be branded. Choose a profile photo that symbolizes your brand to brand your Facebook page. In your profile photo, we recommend utilizing your logo.
Your cover photo should also reflect your company's identity. Use the area on the cover photo to promote forthcoming events and promotions, as well as to demonstrate how your products work. The cover photo for Amul, for example, displays their products.
DEVICE MARKETING STRATEGIES: PAID OR ORGANIC.
The majority of your Facebook page will be dedicated to organic marketing—an efficient inbound marketing technique that attracts people to your company by providing them with value.
However, Facebook allows you to submit sponsored content, which increases a post's exposure and pushes it into people's news feeds.
While you should focus on organic social media marketing as much as possible, a few bought Facebook advertisements may go a long way. Don't just pay for articles at random; instead, pick to advertise just your finest pieces, ones that provide value to your audience and may just persuade them to buy.
REWARD YOUR AUDIENCE
Giving people a reason to follow their postings in the first place is an excellent approach for Facebook sites. The top branded Facebook pages find methods to reward their fans through picture contests, freebies, and special discounts.
UPLOAD VIDEOS AND IMAGES
While Facebook was formerly mostly used for static photographs, the social media behemoth is increasingly focusing on video. Films, such as Shopify's videos with marketing advice and customer recipes, tend to provide deeper, more in-depth material.
Make sure your material is current so you don't come out as spammy or repetitive. Display a varied selection of innovative, original material, exactly like the corporations in the examples presented, to keep your fans satisfied.
BACKLINK TO YOUR WEBSITE
Remember to provide a link back to your website. The goal of your social media profile, after all, is to generate leads. In your bio, as well as your cover photo, provide a link. In articles that highlight a blog piece or describe a new product, you may also include pertinent links.
For quality backlink services contact Jootoor Designs.
POST FREQUENTLY
Instead of chronological order, Facebook shows content depending on the interaction. Consistency is rewarded on social media, so make sure you're publishing at regular intervals. It doesn't have to be every day, as long as you stick to a consistent publishing schedule.
Also, make sure you publish at the right times. Use brand analytics to determine when your audience is most active and engaged with your content by posting at different times of the day. Then you may adjust your publishing schedule in accordance with their online activities.
Don't forget about weekends and holidays. You may schedule postings in advance, even if you don't wish to work on these days. Instead of selecting "Post," pick "Schedule" and choose your desired publication date and time when adding new material.
CONCLUSION:
A Facebook page for your small company brand is just as fundamental and necessary as a website. Rather than merely publishing for the sake of posting, turn your company's Facebook page into a platform that provides genuine value to potential consumers.
By creating a great Facebook page for your business, you will generate buzz, establish your brand as an industry authority, and build a loyal customer base.
For the perfect blend of "Seen – Read – Recommended", we are here to help you! Collaborate with Jootoor Designs and we will handle your social media pages. For more details call us on 91888 16888.